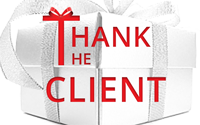 APPRECIATION MARKETING
Personalized Monthly Postcards
Each month, we highlight an offer from a restaurant or entertainment venue in your area and personalize it with your name, photo, contact information, and personalized message. Our postcards are printed on high-quality four color glossy cardstock paper.
To see the various monthly postcard examples,
sign up here
at no cost or obligation.
Mailed or Unmailed Postcards
You can choose to upload your client list and we will mail your postcards for you, or you can choose to order unmailed postcards which you address, stamp and mail yourself. When you send us your mailing list, we will verify your addresses through the US Postal Service's National Change of Address Database to verify the address, then imprint and mail via pre-sorted standard class mail. Remember, when mailing your own postcards, these 8.5"x5.5" postcards require a first-class stamp, so our services can help you save time and postage.
PRICING
We offer pricing for mailed postcards via pre-sorted standard class mail or unmailed postcards which will be sent to you.
30 minimum on all orders
Postcard Qty
Cost per piece (Mailed Postcard)
Cost per piece (Unmailed Postcard)
Single Month Plan
$0.99
$0.69
6 Month Subscription
$0.94 (5% savings)
$0.64 (5% savings)
12 Month Subscription
$0.89 (10% savings)
$0.59 (10% savings)
For unmailed postcards, the shipping costs are as follows:

50 or less = $6.95
51 - 100 = $8.95
101 - 150 = $10.95
151 or greater = $12.95

*Please note that these oversized postcards require a first-class stamp, as they are considered a letter size.